Dental implants are a great option for long-term tooth loss because they are placed into the jawbone and act as replacement tooth roots.
Dental implants in Herefordshire are very strong, sturdy and reliable. When you choose to have dental implants with Warrendale Dental Care, we will want to see you regularly to make sure they are being well maintained.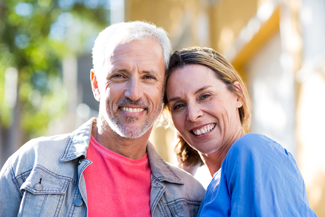 Dental implants can last for decades, but you may need to replace some or all of their components at some point in your life.
Which are the main components of dental implants?
Dental implants in Herefordshire are made of 3 parts – the main implant post that is placed into the jawbone by the dentist, the connector (abutment) that allows the restorations to be mounted on top of the implants, and the restorations, which can either be crowns, dentures or bridges.
The abutment and the replacement teeth are more susceptible to damage than the actual implant because they are exposed above the gum line.
Can I know in advance how long my dental implants will last?
The simple answer is no. However, you can prolong the life of your dental implants in Herefordshire by taking good care of them and visiting your dentist regularly for check-ups. With regular care, implant posts can last for many decades – even a lifetime if you had them later in life. However, crowns, dentures, and bridges will need to be replaced every 10-15 years for hygiene reasons.
What can cause implant failure?
Dental implant failure is very rare and your dentist will do their best to eliminate the possibility of such an outcome. However, if you smoke or have diabetes, you should discuss implant treatment with your dentist carefully. While many smokers have had dental implants over the years, studies have shown that smoking can contribute to implant failure, even if your dental implants fuse successfully. Likewise, dental implants in Herefordshire are not recommended to patients with uncontrolled diabetes.
Thinking about dental implants in Herefordshire?
If you want to have dental implants to replace one or more missing teeth, you need to book a consultation appointment with us. We will happily answer all your questions.