Dental implants are a popular form of restorative dentistry and are considered as the best form of tooth replacement within the field of modern dental care, and at our clinic within Herefordshire. Dental implants are a long lasting solution for missing teeth, and can be used to replace one, several, or even whole rows of teeth within the mouth, in addition to denture stabilisation.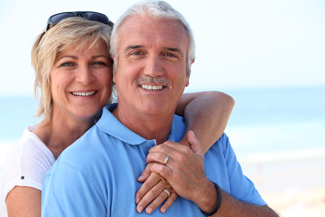 What to expect from the treatment process
Many of our patients may have heard of dental implants in Herefordshire however they may be unsure of what to expect from the treatment process, especially those who feel anxious within a dental environment. If you are considering this particular form of tooth replacement at our dental clinic within Herefordshire, then you may be interested in the implant process.
The first step
Much like any dental treatment, dental implants in Herefordshire always start with an initial consultation. During an initial consultation patients can expect to receive a thorough oral examination, as well as a pricing estimate, and general dental advice to ease any of your treatment concerns.
The next step in your treatment process
Once you have discussed your tooth replacement with our experienced dental team here at Warrendale Dental, we can start to devise your treatment plan, tailor made for your unique dental case. The first step is to place the dental implant in the jaw (a small titanium screw typically less than one centimetre long), once this has healed correctly we can attach your porcelain crown, to ensure your aesthetic appearance is never compromised.
A dental service you can trust
We understand that choosing a dental clinic to receive any form of dental treatment (whether this be general routine dentistry, or more complex dental care) can be difficult, especially for parents choosing a surgery for their child. Our dental clinic embraces modern advancements within dental technology, and our website is no exception.
An alternative perspective
Aside from our positive reputation within the local and surrounding area, we understand that many of our new patients may appreciate hearing from those who have previously received implants. Located on our dental website we display a wide array of patient testimonials, all of which are evidence of the excellent standard of dental care we provide.
How much do dental implants in Herefordshire cost?
The exact pricing of your restorative dentistry may weigh heavily on an array of factors, one of which being the number of teeth you are missing from within the mouth. Patients may be looking for a single tooth replacement or could be looking for something more complex like a 'retained bridge' used for the replacement of multiple teeth, which will cost more.
How to pay for your restorative dental treatment
Many patients may be startled by the upfront cost of dental implants, however they need not be deterred. Our dental clinic not only offers interest free credit over the course of a twelve month period, but we also give our patients the opportunity to pay for their chosen treatment over the course of several years (with low bearing financial credit).