When people discuss replacement body parts with prosthetics, they talk about giving patients back the full functionality of that body part. Think about in terms of legs for example. There's Long John Silver stomping around Treasure Island on his wooden leg, not really able to chase after Jim-lad for the gold. Then there's Jonnie Peacock gliding around the ballroom in Blackpool in Strictly 2017. Now you can see what full functionality means. Apply that to replacement teeth and all of a sudden you can see the huge difference between dentures and dental implants in Herefordshire.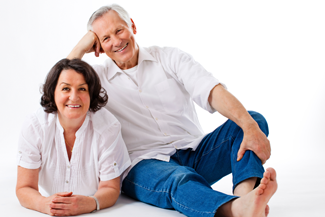 If you want your mouth to be Jonnie Peacock on Strictly rather than Long John Silver on Treasure Island, then you need to go for dental implants in Herefordshire. Here at Warrendale Dental, we see what a difference wearing dental implants makes to people of all ages and stages of tooth loss.
Sometimes people lose a tooth or 2 in an accident and, if they are young, they are looking at decades of eating, talking and laughing, preferably with teeth that are stable enough to cope with the toughest, chewiest and gloopiest of foods.
Other people may discover that their teeth are starting to fail in their middle years, or are in early senior years and finding that the whole lot are on the way out.
Whichever boat you find yourself in, only dental implants can give you back the full use of your teeth with as little daily hassle as possible.
Advantages of dental implants in Herefordshire
You get 100% of your chewing power back
You can eat anything, no matter how sticky, chewy or gloopy
Your dental implants keep your jaw strong and healthy
Your teeth will never wobble around in your mouth
Daily maintenance is just like for your natural teeth
In the long-term, your implants may even work out cheaper than dentures or bridges.
If you'd like to find out more about dental implants from Warrendale Dental, do give us a call and come in for a chat. If we think they will work for you, we can carry out an in-depth examination to get the ball rolling.