A fantastic way to improve the appearance of your teeth!
Teeth Whitening from £349 for more information click here to view our fees.
We have three systems here at Warrendale Dental Care:
Enlighten your teeth with a combination of home and office whitening that is guaranteed to lighten your teeth to shade B1 whilst maintaining a natural appearance.
The Zoom 2 system (as seen in Extreme Makeover) achieves instant results and is administered at the surgery. The teeth are isolated and a powerful bleaching agent applied. This is activated using an ultra-violet lamp and can achieve up to 8 changes in shade! After whitening you are provided with home whitening trays and whitening agent so that you can top up your smile as required. For more information click here.
We are also able to provide Opalescence home whitening trays and agent that whitens your teeth gradually over a period of 4 to 6 weeks of daily use. With this system you may be able to achieve up to 5 changes of shade. For more information click here.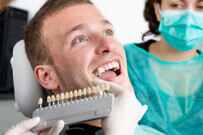 Both systems have a proven track record with few side effects. There may be some residual sensitivity that is transient and settles quickly after whitening is completed given proper home maintenance.