If you are reading this, you have probably lost a few teeth over the years, as a result of neglect or ageing. You are probably currently wearing dentures, which worked well for you at first but are becoming problematic.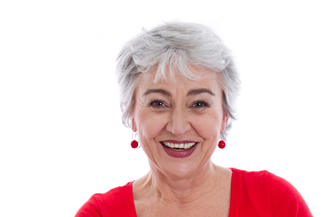 If you are looking for an alternative to your faulty dentures and have ruled out the possibility of bridgework, dental implants might be more suitable for you.
Come to our practice to see if you are a candidate for this life-altering treatment!
What are dental implants?
A dental implant comprises of three components: the small titanium screw that we drill into your jawbone, an abutment that we place on top of the screw or metal post, and the artificial crown that is connected to the screw via the abutment.
Why are dental implants in Herefordshire considered the superior choice?
Dental implants are the most non-invasive, low maintenance tooth replacement device on the market.
Dental implants are popular because they work identically to real teeth. Once we drill the titanium screw into place and it integrates with your bone, the screw becomes the root of your artificial tooth, much as a natural root secures and holds the tooth firmly in place. As a result of the dental implant, you can enjoy the things you used to before losing your teeth.
How is it possible for the screw to successfully fuse with the jawbone?
An orthopaedic surgeon accidentally discovered the biological process osseointegration, and since then, titanium has been successfully used in surgical procedures ever since.
The properties of the metal used are recognised as tissue by the body, and not a foreign object that needs rejecting. Over four to six months, metal and bone merge as one.
Do I have to care for my implant in a specific way?
Your new tooth requires no special attention. Look after it in the same way you do your regular teeth – brush, floss and use mouthwash. Also remember that just because your crown is artificial and made from durable materials, it does not mean it is immune to plaque build-up and possible wear and tear – failing to care for it properly will shorten its shelf life.
Is there criteria for getting dental implants in Herefordshire?
You need to have healthy gums and enough bone for us to insert the implant.
If you have gingivitis or periodontitis, you will first have to have treatment for the infection before you can undergo implant surgery.
Not having enough bone, which is usually a consequence of wearing dentures for a prolonged period, will also delay the implant surgery. Bone graft surgery is a possibility if you consider dental implants as the best tooth-replacement option for you — a bone graft transplants bone from one part of your body to your jawbone.
Are dental implants in Herefordshire more expensive than other methods?
The initial cost of implants is more, but consider what you are getting, improved quality of living using a low maintenance high reward device.
Why delay the process? Visit Warrendale Dental for a consultation and say goodbye to missing teeth and poorly fitted dentures.